Summary
Start with Heart – stay focused on what you really want
Learn to look – notice when safety is at risk
Make things safe
Master your stories – how to stay in dialogue when you're angry, scared, or hurt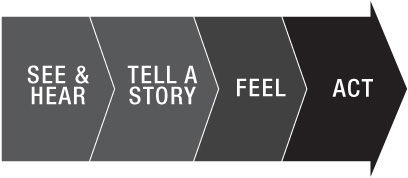 ---
State your path
STATE
S - Share your facts
T - Tell your story
A - Ask for others paths
T - Talk tentatively
E - Encourage testing
Share your facts
facts are general not controversial.
facts are more persuasive than subjective conclusions.
facts for the foundation of belief.
facts are the least insulting.
Tell your story
facts alone are rarely worth mentioning without a conclusion.
it takes confidence to share your story, be honest.
when sharing your story look for safety problems.
use contrasting.
do not apologize for your views
Ask for others paths
encourage them to express their facts, stories, and feelings.
carefully listen to what the other person has to say.
be willing to abandon or reshapre your story as more information pours into the pool of shared meaning
Talk tentatively
tell your story as a story rather than disguising it as a fact.
strike a balance between confidence and humility.
Examples of talking tentatively
"In my opinion … "
"Perhaps you were unaware … "
"Is that what is going on here, or am I jumping to conclusions …"
Encourage testing
invite opposing views.
mean your invitation when you invite opposing views.
if you don't get opposing views play's devil's advocate.
---
Contrasting
Examples of Softening
"I'm beginning to wonder if … "
Explore others' paths
Move to action
References